BOMBAY COMPANY Mahogany Box with 4 Beautiful Cut-Glass Crystal Decanters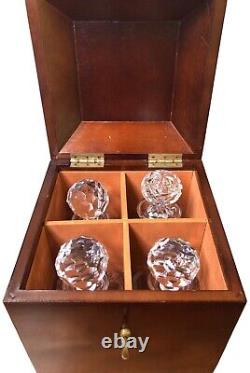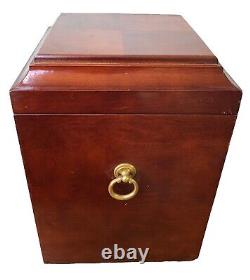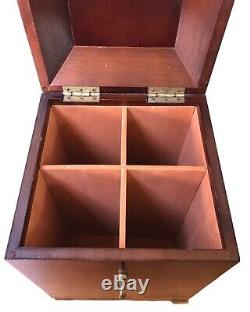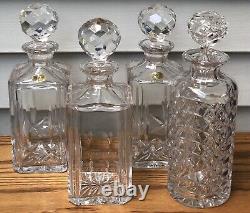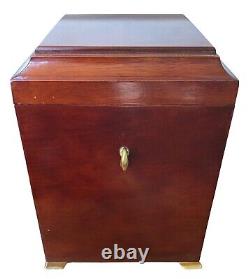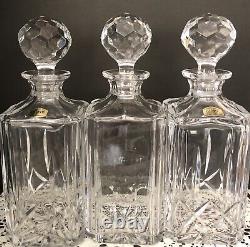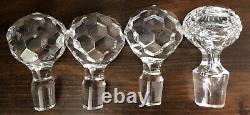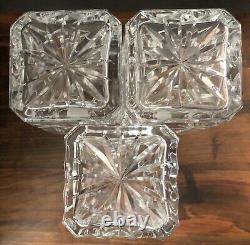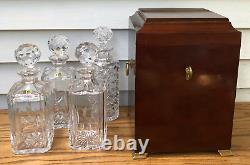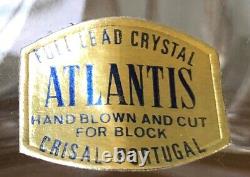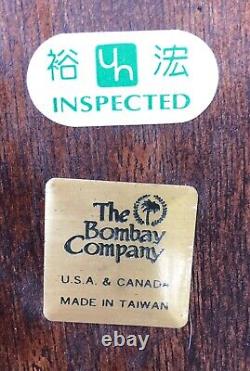 STUNNING BOMBAY COMPANY Cased Crystal Liquor Decanter Set. Mahogany Box with 4 Decanters & Stoppers. 2 VINTAGE "ATLANTIS" Decanters, 1 Similar to "ATLANTIS" Decanters and 1 Beautiful Hand Blown Cut-Glass Decanter. A Wonderful Gift for that Special Someone!
The Bombay Company is an American furniture and home accessories retailer owned (since 2011) BY Hermes-Otto International USA, LLC. At one time a chain of over 500 stores based out of Fort Worth, Texas, Bombay Company was relaunched in 2012 as an online store. This Mahogany Decanter Box was made by the BOMBAY COMPANY in the early 1980's.
This set was given to us by my husband's mother in the early 1980's. We believe these beautiful Decanters came with the BOMBAY Decanter Box. She bought it in New York City shortly after the Bombay Company opened its store there.
Mahogany Decanter Box Dimensions: 9 inches x 9 inches x 13 inches tall (4 interior fitted sections each 3.75 inches square). Decanter box raised on small brass feet in the corners.
VINTAGE "ATLANTIS" Full Lead Crystal Square Decanter Whisky Bottles with Beautiful Cut Glass Ball Stoppers made in PORTUGAL. Two "ATLANTIS" Decanters never used Mint Condition both with Original Stickers still attached! They each weigh 4 lbs. And stand 7-1/2 inches tall (without the stoppers) and 10 inches tall with the stoppers. They measure 3-1/2 inches wide on all four sides.
The sticker reads: "CRISAL PORTUGAL" & Hand Blown and Cut for Block. A Third Decanter is nearly identical to the above two decanters - the same sizes, same bottoms and same crystal stoppers this one only differs in the etching on the sides near the bottom and it is five ounces lighter. And stands 7-1/2 inches tall (without the stopper) and 10 inches tall with the stopper.
The Fourth Decanter is a Beautiful Round Cut Glass Lead Crystal Decanter. And stands 8-1/4 inches tall (without the stopper) and is 10-3/4 inches tall (with the stopper in place).
This decanter is 3-1/2 inches in diameter. Total weight of the 4 decanters and stoppers is: 15 lbs. The Mahogany Decanter Box weighs 8 lbs. THANK YOU FOR STOPPING BY.

---