Waterford Crystal Sea Jewel Abstract Candlesticks Diamond Cuts Candle Holder Set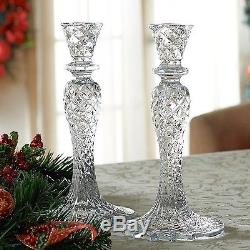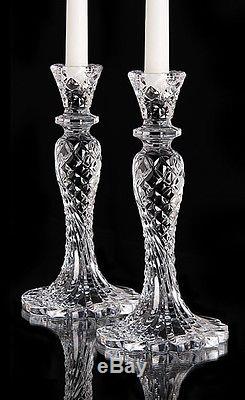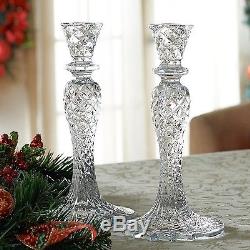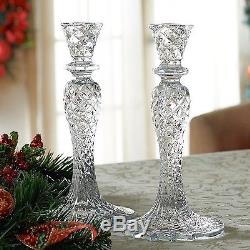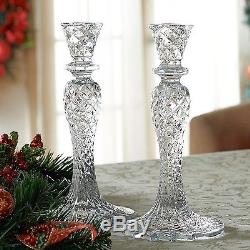 Waterford® Crystal Sea Jewel Set of Two 10 Candlesticks. Made exclusively by the most renowned artisan craftspeople. This candlestick pair is punctuated with diamond cuts creating an upward sense of motion. The unique and exquisite design incorporates many of Waterford's signature cutting techniques exuding the history of artistic design and story telling that lie in the heart of the artisans that create them something very iconic to Waterford brand. The swirling cut along the bottom gives the effect or motion of a mighty white capped wave known as a Hippocampus...
Hence the name "Sea Jewel". Brand New In Original Box! A romantic tribute to the wonders of the watery deep, the Sea Jewel candlestick pair by Waterford evokes expansive sea views with its distinctive pattern of cuts in sparkling crystal.
Additional Information: Each measures 10"H x 5"W. Intended for 12 maximum height candle.
Care Instructions: When washing by hand, avoid using scouring pads and/or abrasive detergents. To prevent spotting, combine quarter cup ammonia with a mild lemon detergent. Rinse in clean water and air dry on a rack. Clean vases and decanters by filling them half-full with moderately hot water, a small amount of mild detergent, two tablespoons of white vinegar or ammonia and 1/2 cup uncooked rice.
Swirl the rice around for a few minutes to remove residue. Rinse well with moderately hot water and air dry, upside down, on a rack. This candlestick is a beautiful piece. It is abstract design of a seahorse.
It makes a lovely gift for anyone. The gorgeous 10-inch Seahorse Abstract candlestick is part of Waterford's second edition Classic Crystal Collection; it was designed to contrast with the more explicitly illustrative 8-inch Seahorse candlesticks. Waterford has been making renowned crystal pieces for more than 200 years, and the centuries of craftsmanship are clearly displayed in this series inspired by the seahorse, a creature with ancient, mythical significance. The Seahorse pattern is based on the crest adopted more than a decade ago to represent the Irish seaside location of the Waterford company. This statuesque candlestick, which would be lovely on a mantel or as part of the center display on a dining table, is wrapped with two long, undulating vertical cuts, which in turn are interwoven with fields of diamond cuts for a scintillating sense of wavelike motion.
The base swirls with a skirt-like look--a semicircle defines one side while the other bursts with half of the 16-rayed star that is a signature mark on other Seahorse pieces. To preserve its clarity, do not wash Waterford crystal in the dishwasher; harsh detergent and excessive heat could permanently etch surface of glass. Wash with a mild liquid soap in warm (not hot) water. Certain water may leave a lime or mineral deposit on the crystal; if that happens, vinegar on a soft, nonabrasive cloth will help remove the deposit.
Rinse with warm water and polish with a lint-free cloth. Edges and rims are delicate; do not store upside down or place upside down on a draining board. Crystal can focus sunlight into a concentrated beam that could potentially scorch rugs or furniture, so do not store or display in direct sunlight. Do not allow candle to burn down to within one inch of candlestick; the heat could damage the crystal. The candlestick is 10 inches tall with a 5-inch base; it takes standard 7/8-inch taper candles.
For more than a decade, the seahorse has been recognized around the world as the mark of authentic Waterford Crystal. Crystal Candlesticks with Waterford SEAHORSE pattern. Large & unusual asymmetric base. 10 inches tall & 5 inches wide. Each is etched with word "Waterford" on the bases.
In this piece, the seahorse inspires the design of the abstract single candlestick. The classic Collection showcases the many cutting techniques developed by the masters of Waterford Crystal. Hand-washing is recommended to preserve clarity of crystal.
Handcrafted of solid leaded crystal, this candlestick features beautiful hand-cut designs that will add an elegant touch to any setting. The candlestick measures 5 inches in diameter at the base and stands 10 inches tall. Beautiful wedge and diamond cuts mimic Waterford's classic Abstract Seahorse pattern that was discontinued years ago. This piece is brand new, first quality, and complete with its original Waterford box. You must look at the picture to truly appreciate the beauty of this stunning Waterford display piece!
Waterford® Crystal Sea Jewel Set of Two 10 Candlestick Holders. Made exclusively by the most renowned artisan craftspeople, this candlestick pair is punctuated with diamond cuts creating an upward sense of motion for a breathtaking style. About Waterford® A name synonymous with elegance and luxury, Waterford was founded in 1783 by George and William Penrose in the ancient Viking city of Waterford. The Penrose's knew the secret to mixing just the right minerals and glass to produce crystal with beautiful and mysterious qualities.
When tapped, it sang sweetly. When touched, it felt warm and soft. The magnificent pieces crafted in Waterford's early period set the standards now recognized as the hallmarks of Waterford Crystal. Today, Waterford is the world's top producer of fine crystal, and continues to be the brand of choice for the most elegant of table settings and luxury lifestyle accoutrement.
About Marquis by Waterford® For over 20 years, Marquis by Waterford has offered customers distinctive style and value. Designed by Waterford and manufactured in various countries around the world, Marquis features the same high quality in an assortment of styles - from traditional to contemporary. Make everyday special with Marquis by Waterford! About Evolution by Waterford® With dramatic colors and shapes, Evolution elevates Waterford to another level in home decor. Suitable for contemporary homes, the colorful art pieces also refresh classic looks.
Each Evolution piece is mouth blown and hand finished for premium style. Add a splash of modern interest to any room with an Evolution by Waterford item. About House of Waterford® Experience the elegance of Waterford's premier collection with House of Waterford. This meticulously crafted collection is made in Waterford's iconic factory in Ireland, using centuries-old techniques of glass blowing and hand finishing.
Each piece is so exquisite that, until now, one could only find such beauty in museums. About Jorge Perez Who better than Jorge Perez, U. Director of Editor Relations and Special Events for Waterford Crystal to present the extraordinary collections of Waterford? Perez is a seasoned tabletop authority, with specific expertise in the bridal world. He is considered to be the national spokesperson for Waterford, a role that encompasses expertise in both bridal and tabletop.
Perez has helped to launch many important Waterford designer collaborations, including Vera Wang, Marc Jacobs and Robert Mondavi by Waterford. He also hosts events involving Jim O'Leary, and Lord Wedgwood, in addition to entertaining special appearances by celebrity spokespeople for the lines. Jorge has contributed to and been the focus of many articles, while also lending his knowledge of the bridal and home market to a variety of television shows. Considered to be an "entertaining with style" expert/guru, Mr.
Perez's show credits include such titles as: "What Every Bride Needs to Know", "How to Set the Perfect Table", "Etiquette for Today's Lifestyle", and "Wardrobing Your China- How to Make it Last a Lifetime". In his spare time, Mr. Perez enjoys entertaining, cooking and traveling the world. He is a proud graduate of UCLA, and is equally proud of his Cuban heritage and New York upbringing.
Tune in and join Jorge to discover the historic beauty and elegance of Waterford. You'll learn all about these amazing pieces, plus glean valuable knowledge and advice on how to make your next special event more unforgettable than ever. For centuries the Irish have been supreme artists in glass. It is one of the great traditions in the realm of art, a tradition founded on patient and meticulous hand craftsmanship. The skill of Irish hands is only part of the story - there is also an uncanny power in those hands to impart something magical to glass.
And in all of Ireland, no hands have been more patient, more meticulous, or more blessed with the elusive powers of art than the hands of Waterford crystal's craftsmen. When the brothers George and William Penrose founded the Waterford Glass House in 1783, they made a bold promise - to make Waterford crystal in as fine a quality as any in Europe in the most elegant style. It was no idle boast.
They had in hand the old secrets of mingling minerals and glass to create Waterford crystal of beautiful and mysterious qualities. It sang sweetly at the tap of a finger. It felt soft and warm to the touch yet possessed strength and durability known only to Waterford crystal.
And it radiated a distinctive, silvery white brilliance, which Waterford Crystal's artists enhanced with deeply - cut ornamentation that gave the finished pieces a vivacious, traditional Waterford crystal sparkle. This great tradition lay dormant for a hundred years. But when Irish independence rekindled a passion for Irish arts in the 1940s and 1950s, a group of businessmen resolved to bring back to life the industry that had made the city of Waterford famous. They recruited a small band of hand - picked artists, and under the guidance of these masters, young apprentices learned the intricacies of the art of crysta l.
In a few short years Waterford Crystal reclaimed its pride of place. Once more, it is the customary gift for royalty and heads of state. The item "Waterford Crystal Sea Jewel Abstract Candlesticks Diamond Cuts Candle Holder Set" is in sale since Tuesday, November 05, 2013.
This item is in the category "Pottery & Glass\Glass\Glassware\Waterford". The seller is "femininetouch" and is located in Lakewood, New Jersey. This item can be shipped worldwide.
Brand: WATERFORD
Model: 159843
MPN: 159843
Maker: Waterford
Glassware Category:: Lead Crystal
Glassware Pattern: Sea Jewel
UPC #: 024258517172
Type:: Candlestick Set of Two
A romantic tribute to the: wonders of the watery deep
---